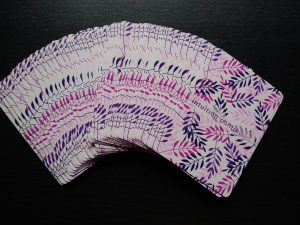 One part Oracle Card Deck…

Each of the 54 cards has a message on it, as well as a longer message available on a linked webpage, serving as the accompanying guidebook.
Receive inspiration, guidance, and insight to help you get more comfortable trusting your own intuition.
Great for intuition development and playing games!
…the other part Playing Cards

52 cards + 2 Jokers
4 suits of 13 cards
Uniquely designed card faces.
Suitable for playing standard card games such as: Go Fish!, Poker, Gin-Rummy, Crazy-Eights, etc.
Poker size cards, 2.5″x3.5″.
Playing card quality.
Clear hard-plastic case.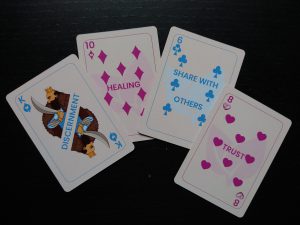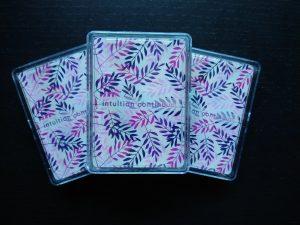 Longer messages that come with each card, available in the accompanying webpage, such as this one for the King of Spades: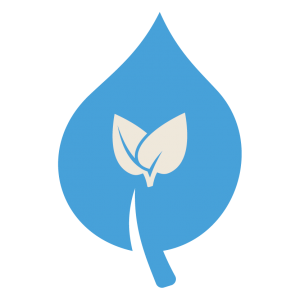 King – Discernment. Select that which suits you best, and leave the rest. Pick up ideas from others – guidance, suggestions, advice – taking only what resonates for you. Allow others' input and advice not to dictate how you do what you do, but consider whether it will enhance or detract from your own one-of-a-kind approach.
1 deck – $35 (GST included)
2 or more decks – $25 each (GST included) when shipped to the same address.
Shipping – flat rate of $15 (GST included) within Canada and the US.
Please allow 4-6 weeks for delivery.
Within Calgary – pickup or delivery may be possible. Contact me to make arrangements.
Canadian dollars. Payable by e-transfer (from Canadian financial institutions), PayPal, Visa or Mastercard.
You'll be redirected to a separate site to purchase using your preferred method of online payment.
All sessions are currently offered online by Zoom or by phone.
Let's connect to see if working together feels like a good fit.